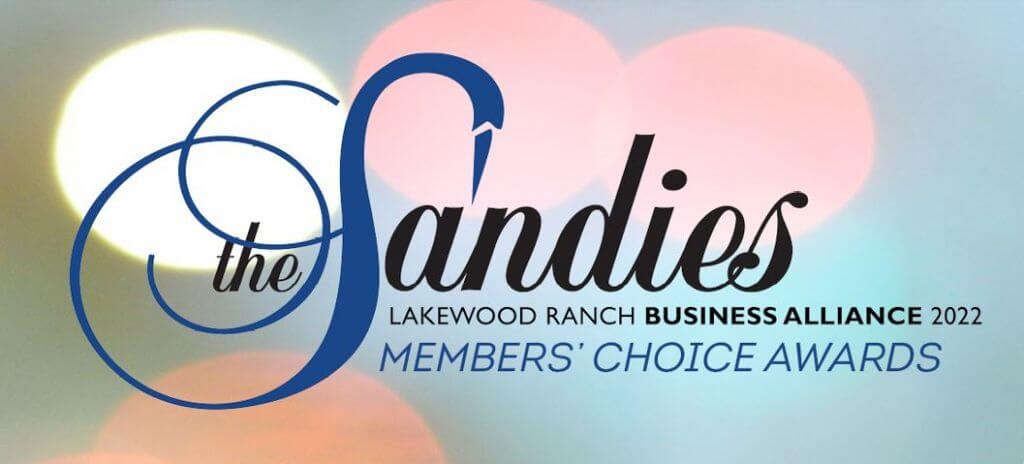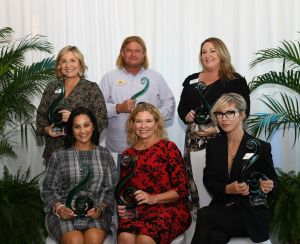 2021 winners left to right: (top row) Allison Imre, Ron Trytek, Alicia Chalmers. (Bottom row) Michelle Olivo, Lorri Kidder, Karen Medford
Every year, the Sandies recognizes members, chosen by their peers, for their remarkable talents, character, and commitment to the Alliance and community. "The Sandies" awards actively support and celebrate The Lakewood Ranch Business Alliance's mission to serve, help develop and unify area businesses through a powerful partnership with other community organizations and governmental institutions. LWRBA is dedicated to providing leadership, resources and business development to foster and advocate for the businesses and their employees of Lakewood Ranch.
ABOVE AND BEYOND
Julie Fanning - Benderson Development
Kent Jimison - Easterseals of SWFL
Nyda Bittmann-Neville - TNB Consulting
Presented by
The Bank of Tampa
BEST RANCHER 
Awarded to the most dedicated and highly motivated member who has invited or referred the highest number of new Alliance members.
Presented by
Bank OZK
BULL BY THE HORNS
Bill Sadlo -Boys & Girls Club of Sarasota & Desoto Counties
Chris Williams - Aginto - A Digital Agency
Ron Beck - Gulfside Bank
Presented by
Grapevine Communications
COMMUNITY CHAMPION
Hugh Shields - Gold Coast Eagle Distributing
Kelly Erdmann - Nothing Bundt Cakes
Lori Ruth - The Observer Media Group
Presented by
Willis Smith Construction
NETWORKING KING
Anthony Baldo - J.P. Morgan Private Bank
Bruce Abramson - KW Commercial
Joe Marra - Piper Fire Protection
Presented by
Thrive
NETWORKING QUEEN
Bree Carotti - Carotti Engineering
Lori Ambramson - LegalShield
Lexie Guanchez - Boyd Insurance & investments
Presented by
Kerkering Barberio & Company
RAY OF SUNSHINE
AnneMarie Graff - Bank OZK
Rossalyn Delfino - Sarasota Addiction Recovery Assistance
Yulia Kuzenko - Merrill Lynch Wealth Management
Presented by
Sarasota Memorial Healthcare System
RISING STAR
Brian Garnant - Florida Cancer Specialists Foundation
Jeff Bergamo - HBK CPAs & Consultants
William Sever - Schooley Mitchell of Sarasota
Presented by
Gulfside Bank
YOUNG PROFESSIONAL OF THE YEAR
Danielle Visone - Tidewell Hospice
Tieler Gittleman - Northern Trust Company
Zoe Kasper - Bekins Moving Solutions
Presented by
Mote Marine Laboratory
VOLUNTEER OF THE YEAR
The Volunteer of the Year award will
be awarded by a selection committee, chosen from nominees across all Sandies award categories. This award will go to a volunteer who has shown the most extraordinary dedication and commitment to the Lakewood Ranch Business Alliance and its mission throughout the last year.
Presented by
Bank of America